Vijay - Best Bridal Makeup Artist in Chennai
Available for Bridal Makeup,Wedding Makeup,Movies,Add film,Portfolio Fashion show,TV Channels,Events,Party Makeup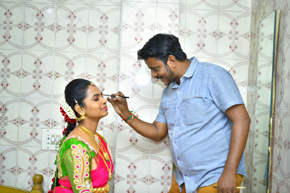 We at Bridal Makeup Artist Vijay In and Around Chennai have a specialized team headed by Mr. Vijay one of the leading and top most Makeup Artist of the Cine Industry. Mr. Vijay has catered to most of the actors and actresses requirements of looking the best on screen and he is here to cater to your needs, to look the best in front of the folks who come to bless you and in the photos which would speak volumes about your memorable wedding day in the years to come.
We at Bridal Makeup Artist Vijay,Chennai understand the fact that each bride is unique and we cater to services that meet their style and make them look naturally beautiful without much effort.
For Bridal Makeup services? Please Contact @ Vijay +91 8015777886 / 9566167705 !